Charting the Last Mile of Care

Growing investment in clinical workflow and automation technology is driving interest and competition from buyers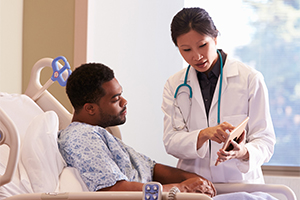 Across the care continuum – from healthcare payors to acute and post-acute care providers – healthcare organizations are navigating a transition to a system that is increasingly centered on value and outcomes. To accomplish this transition, these organizations are seeking technologies that can i) drive and standardize clinical workflows, ii) promote automation at the point of care delivery as well as, iii) maximize safety and productivity while minimizing errors and wasteful spending.
The last decade of technology investment in healthcare has been defined largely by electronic medical record (EMR) adoption. While EMR systems have been helpful in documenting, digitizing and facilitating better sharing of information, their ability to impact on healthcare outcomes is limited by a number of factors, including: i) EMRs are primarily retrospective in nature ("what just happened versus what will happen"), ii) EMRs have created a significant new time burden for all clinical staff, which is limiting the amount of time physicians spend with patients, and iii) EMRs often lack the ability to influence real-time care delivery and related patient outcomes. As a result, healthcare organizations are seeking technology solutions that translate data and insights into action as well as improve the productivity of their clinical teams.
The heightened interest in this technology has good cause. Consider the following: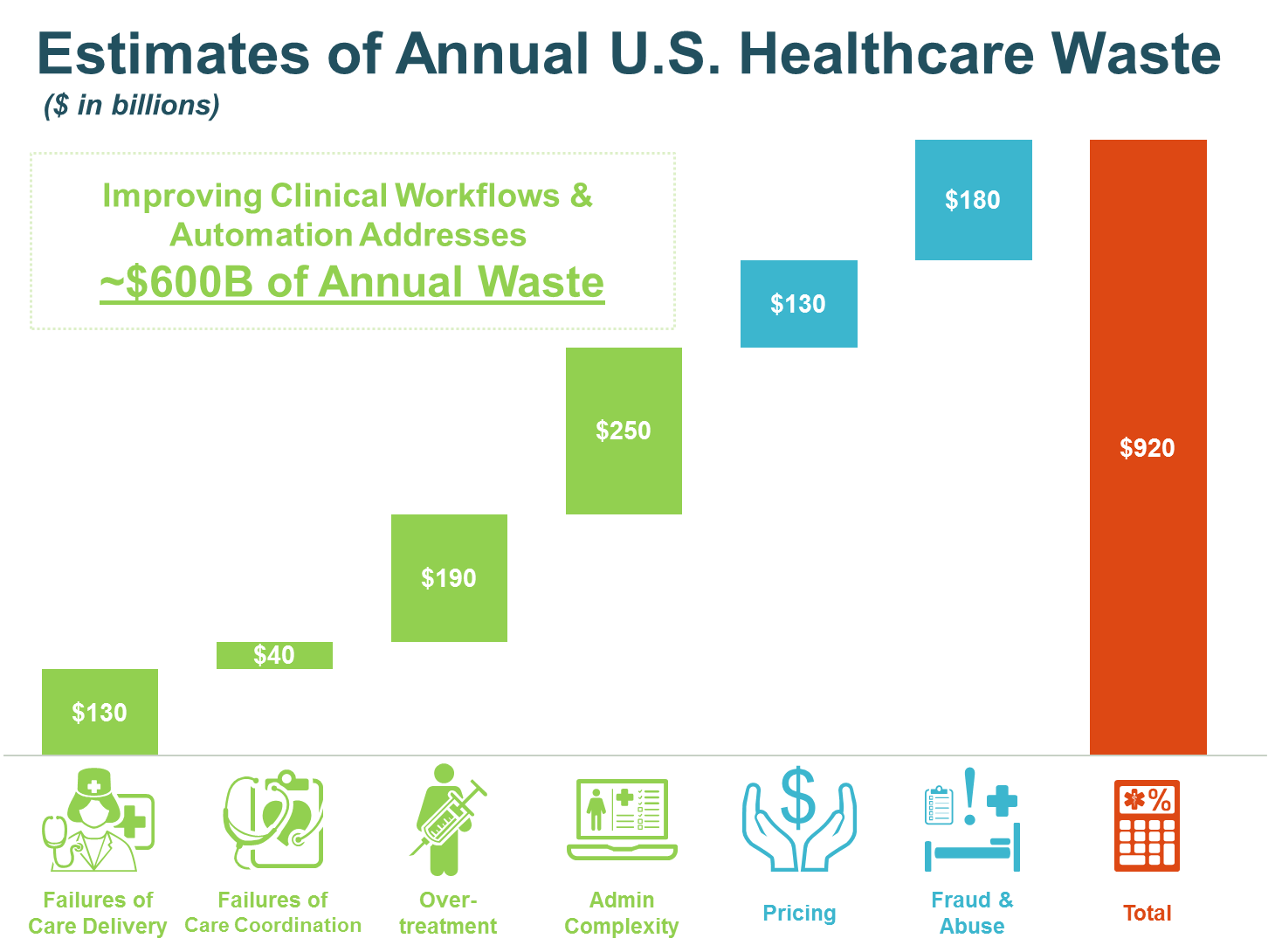 Source: Donald M. Berwick and Andrew D. Hackbarth, "Eliminating Waste in U.S. Health Care," JAMA 307, no. 14 (April 11, 2012): 1513–16.

Clinical workflow and automation technology is designed to improve the delivery of clinical care by making caregiver tasks, processes and equipment more efficient and effective. Emerging areas of technology investment include the following:
Clinical Communication – Caregivers want to improve the efficiency of communications among healthcare stakeholders in order to facilitate more timely access to critical information and optimize the clinical resources associated with the delivery of care. Additionally, caregivers and healthcare administrators are seeking solutions to improve patient education and the patient experience as the market continues to transition to value-based care reimbursement models. In particular, healthcare organizations are seeking enterprise-level solutions that simplify and automate complex clinical workflows and diminish the "alarm fatigue" created by the myriad of call, monitoring and diagnostic devices. Some examples include nurse call systems, which are increasing in sophistication to serve a greater role in facilitating provider care delivery models, and patient engagement platforms, which can tailor clinical content and instructions to enhance the patient experience and adherence to the proposed care plan post-discharge. Growing levels of reimbursement tied to the Hospital Consumer Assessment of Healthcare Providers and Systems survey are further fueling investment in these Clinical Communications and patient engagement technologies.
Knowledge Management – Caregivers want decision support as close to the patient encounter as possible. This ensures a higher level of consistency and relevance in the delivery of care, improving caregiver productivity and patient outcomes. Although clinical decision support comes in many forms – ranging from order sets to published care pathways – emerging technology solutions focus on enabling caregivers to design and publish dynamic algorithms that can be integrated into a healthcare organization's existing workflow solutions. Further, as clinical and outcome data become more digitized and normalized, companies are beginning to explore machine learning as a supplement to generate, and to monitor the effectiveness of care delivery algorithms.
Care Delivery Infrastructure – Providers are investing in higher-technology infrastructure that supports better care delivery closer to the patient bedside and better enterprise resource management. In regards to the former, smart carts and cabinets can improve access to critical treatment and information in time-sensitive situations while also reducing potentially harmful errors. In the case of the latter, RTLS / RFID systems, automated medication management technology and sophisticated staff management software help providers to operate more efficiently without sacrificing (and often improving) access to care delivery resources. Many health systems are finding that the benefits from care delivery and resource management infrastructure investments are not mutually exclusive, creating a win-win scenario for C-suite decision makers.
Heightened Buyer Interest
Baird is noting increasing interest in the clinical workflow and automation technology space from various buyer categories. Healthcare consolidators continue to look for acquisitions that would leverage a common end market and secure complementary or even competing technology to maximize synergies and the value of a common sale point. Meanwhile, private equity firms continue to search for platform investment opportunities to expand the addressable market through add-ons or end market extensions.
Additionally, a growing number of non-traditional buyers – particularly, diversified technology and industrial players – are showing interest. These companies are finding that clinical workflow and automation is an attractive angle to gain access to a large healthcare market that is ripe with opportunity while leveraging their core competencies in areas such as engineering, manufacturing or data and analytics, without the regulatory considerations or reimbursement risks typically associated with insurance and life sciences companies. While these buyers are very selective about the assets they pursue, they can move aggressively when they discover a good fit and often generate premium transaction outcomes.
Attractive Assets
When evaluating assets, buyers are particularly focused on technology platforms that address some combination of improving of the previously mentioned areas: clinical communication, enhancing knowledge management, and bettering the care delivery infrastructure.
There are a number of factors that are driving interest and valuation. The first set of considerations is around market position, value proposition and addressable market. Is it an established brand with a strong customer footprint? Is it a technology that is demonstrating improved care outcomes consistently and across multiple sites of care or end markets? Is the company able to extend technology applicability beyond the existing use cases to augment the addressable market and open new revenue opportunities? There are also a number of sector-specific considerations at play.


Opportunities Abound
Baird believes that heightened interest and innovation will remain in the clinical workflow and automation space. Given the increasingly competitive dynamics, buyers should pick their spots judiciously. Each point along the healthcare continuum has distinct commercial and regulatory dynamics that play into the long-term viability and market potential of technology platforms.
Meanwhile, sellers should develop proof points that validate the long-term viability of their business model prior to engaging with prospective buyers. This can be demonstrated through robust client case studies that articulate multiple clinical use cases and establish a tangible ROI. Further, strong intellectual property protection along with third party technology integration helps to defend against encroachment from other healthcare technology players. In addition, defining the current and potential addressable market is critical, particularly when non-traditional buyers are invested. Baird has found that market studies can be a valuable tool, with appropriate scope and methodology, to validate support transformative growth opportunities for a range of potential buyers.
Healthcare organizations are accelerating their investment in clinical workflow and automation technology, supporting the last mile of care delivery. Baird has been an active advisor in the sector and has the right experience to help prospective sellers and buyers take advantage of attractive market dynamics in order to maximize opportunities.
Learn more about Baird's comprehensive Healthcare platform.
For a complete list of Baird transactions, please visit http://www.rwbaird.com/investment-banking.